Banner & Stand Combinations
---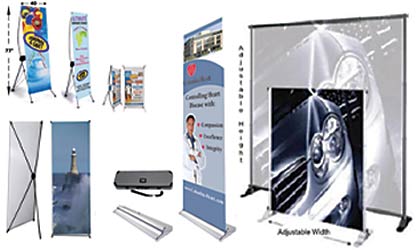 Banners with stands for trade shows and more!
Portable banner display systems that set up in minutes!
What type of banner stand set is right for your needs?

Free-standing banner display systems!

Banner stands are extremely lightweight, portable, easy to use and economical. Banner stands are an extremely simple yet utterly sophisticated way to display banners in a free-standing method, any place and anywhere, so you never have to worry about finding a place to hang a traditional printed banner. Banner stands can be used in a business office, at trade shows, restaurants, farmer's markets, department stores and grocery stores...the possibilities for banner stands are practically endless. When purchasing a banner stand combination (stand and banner) you also get the added feature of interchangeable signage. Since the banner stand is designed to break-down and set-up for portability you'll have the opportunity to purchase just one banner stand that has the ability to accommodate different banners (if built to the correct size for your banner stand specifications) that can be switched out to reflect your marketing or advertising needs or from event to event.
Banner stands come in a variety of styles and sizes from super cheap table-top banner stands and x-frame banner stands, that are very budget friendly; to more elaborate banner stand systems like adjustable banner stands that have flexible arms to accommodate thin and wide banners or all-in-one retractable banner stands where the banner rolls up and back down into the base; to extra-large banner stands that can accommodate extra large banners for backdrop displays at trade shows, red carpet events, photo shoots and more. Super handy and extremely economical, banner stands are a great investment because of their portability and flexibility.
Banner stands are primarily made for indoor use because they can be easily moved around or disassembled for transport; but can be utilized outdoors as well, except under extremely windy weather conditions, to attract foot traffic. Another banner stand combination that is great for outdoor advertising, that can stay out doors year round, is a Wind Flag Banner. Fabric flag banners slide onto a pole system, that either has a base or a stake, allowing the banner to rotate 360 degrees (in either direction) or whichever way the wind blows!

Have any questions about our Banner Stand Combinations,
or want to place an order over the phone?
Give Quick Signs a call.
(866) 267-4467