Stainless Steel Letters:

Flat cut and formed steel letters and logos

Or call for additional Stainless Steel metal letter information: (866) 267-4467
---
3 Dimensional stainless steel metal lettering
Stainless steel metal lettering is great for all climates, but does especially well for seaside signage, because of it's resistance to tarnishing in marine environments. Those situated in more metropolitan areas prefer the heavy-duty industrial look that stainless steel affords. And besides standing along by itself for dimensional office letters, stainless steel is employed to make many of the cast molds for our Aluminum letters, Bronze letters, Brass letters and Copper letters for commercial office wall signs.
Stainless steel letters, whether used indoors or outdoors, have some definite advantages over some of the other metal lettering we offer. First and foremost, stainless steel has great welding capabilities, and can be fabricated easily to create custom lettering that can house lighting equipment to illuminate your dimensional lettering. Next, this particular metal, which is corrosion resistant is offered in two different alloys, one of which is greatly used in areas within close proximity to marine habitats.
Depending on your metal letter preference, our stainless steel letters are either cut out of a sheet of metal by water laser jets or 5000 watt precision laser beams. Fabricated steel lettering is welded into just about any shape imaginable. Available finishes for our stainless steel letters allow for a brushed or polished look in both of the alloy choices (C304 and C316) we offer for this particular metal, and also Cor-Ten which is created by alloying copper, chromium and nickel which causes the top layer to corrode then protects the steel undearneath it.
Mounting options are depending upon the size, type and thickness of the steel lettering. When mounting any metal lettering a paper, stencil or drill pattern is highly recommended and can be ordered upon request.
For those looking for a stainless steel look but at a fraction of the cost and weight, please check out our Plastic Letter and Foam Letter options, that can be fashioned to mirror actual steel wall letters.
Stainless Steel Lettering Options and Highlights:
Product Guarantee:

All stainless steel letters have a lifetime warranty against chipping, fading and cracking.

Product Options:

Flat Cut or fabricated.

Stainless Steel Finishes:

Brushed, Polished, or Cor-Ten Natural.

Sizes:

No size limitation. Starting from 1/2" and up.

Metal Thickness:

Variety of thicknesses starting at 1/8".

Mounting options:

Lettering can be flush mounted or stud mounted.

Installation:

Stencil, paper and drill patterns available for easy installation
FLAT CUT METAL

CAST METAL

FABRICATED METAL

PAINTED METAL
Flat Cut Metal - Letters and Logos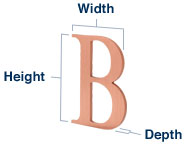 Flat cut metal letters are precision-cut utilizing high-pressure water jets and lasers out of sheets of metal. Falt cut metal letters come in various depths ranging from 1/8" up to 2" thick out of the following metals: Aluminum, Brass, Bronze, Copper or Stainless Steel. Flat cut letters can be cut to just about any font or custom shape with the proper vector-based art files. Flat cut metal dimensional letters also come a variety of over 50 standard finishes that include painted metal letters, anodized metal letters, oxidized letters, polished letters and more (see finishing options below.) Ultimately flat cut metal letters look sleek and professional for interior use and very durable for outdoor use that are practically guaranteed to last a lifetime without any chipping, fading or cracking.
Aluminum Finishes: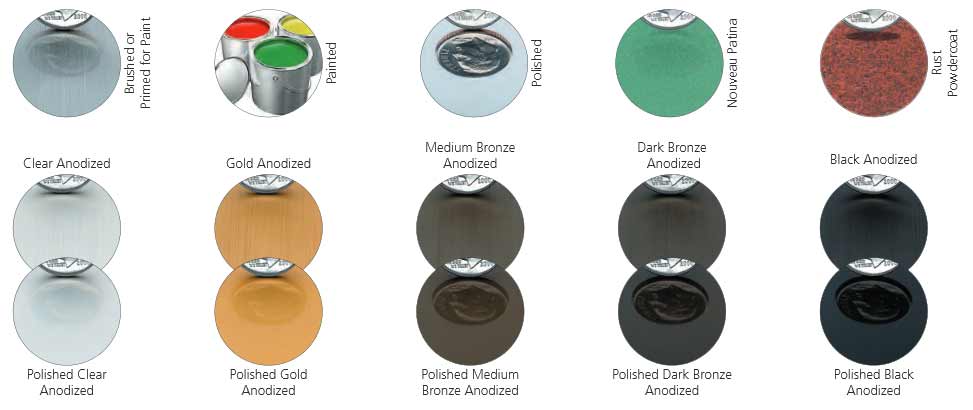 Bronze Finishes:

Brass Finishes: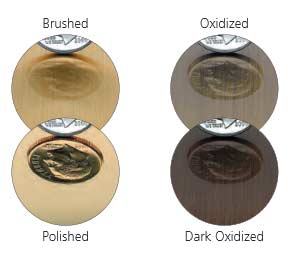 Copper Finishes: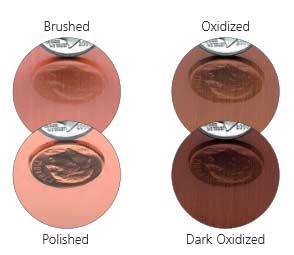 Stainless Steel Finishes: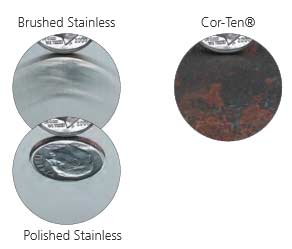 Cast Metal - Standard & Custom Letters/Logos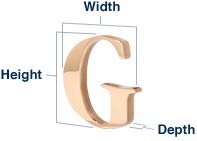 Cast metal letters are made from pouring liquified metal into pre-determined molds or specially created die-cast molds, which when cooled, creates beautifully strong and permanent metal letters with a depth of up to 3" with partially hollow backs to reduce on the weight of the letter. Cast metal letters are made from Aluminum and Bronze metals that both have a variety of finishing options (listed below) and come in a variety of standard fonts, sizes and depths or can be custom made for a completely unique look. Cast metal letters range in size from 2" to 24" with the ability to make larger letters in sections. Cast metal letters can be made with flat faces, rounded faces or prismatic faces and are guaranteed for life.
Aluminum Finishes: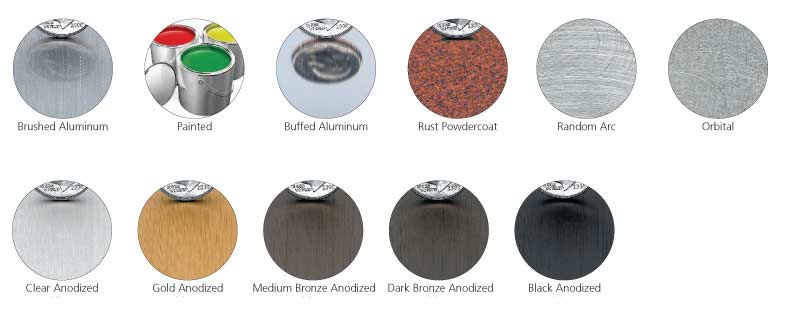 Bronze Finishes:

Fabricated Metal - Letters and Logos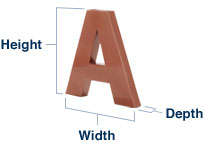 Stainless steel fabricated metal letters are expertly crafted to give the most depth in the field of architectural signage. Fabricated metal letters have virtually endless design potential with optional LED choices for sign illumination. Ranging in size from 4" to 95", with a depth range up to 5 inches, fabricated metal letters can be custom built to just about any depth specifications with custom faces and returns. Lightweight and corrosion resistant fabricated metal letters make the best choices for businesses in coastal areas and come with a lifetime guarantee.
Fabricated Stainless Steel Finishes: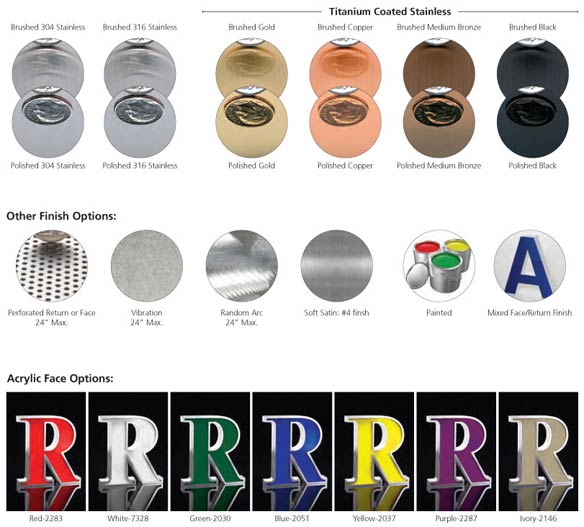 Painted Metal Letter Color Options
All three metal letter choices come with the option to paint the letters to specific pre-determined colors or can be color-matched to any PMS color. Painting dimensional metal lettering gives you the stability of an extremely durable metal sign while bringing color to your architectural signage. The list of painted metal letter colors below are meant to be used on flat cut or cast aluminum metal letters or fabricated stainless steel metal letters with most all color choices available in gloss, matte, semi-gloss or satin sheens. Painted metal letters can also accommodate contrasting colors on the face and sides of the lettering for a completely unique and custom look.
Paint Colors for Flat Cut, Cast and Fabricated metal letters: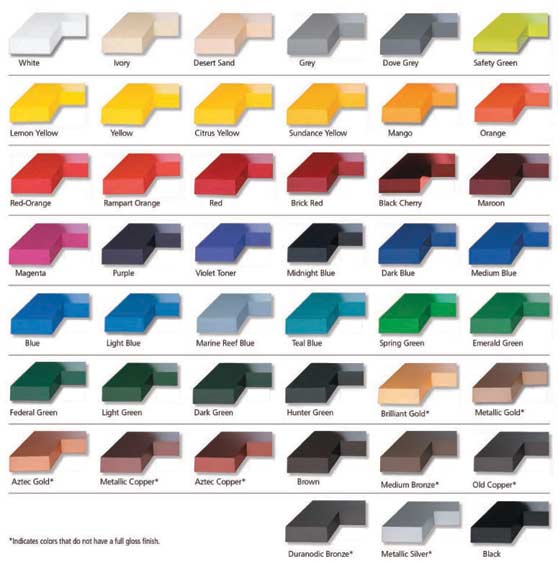 ---
Check out our other Metal lettering options:
Please call our 3-D Lettering Sign Specialists today to inquire about all our
Dimensional Metal Lettering options and styles.
(866) 267-4467