Foam Wall Letters: 3D dimensional foam lettering & logos

Interior & exterior foam display letters.
Foam lettering is the ultimate in lightweight, low cost, interior and exterior 3-dimensional signage in comparison to Plastic wall letters and Metal wall letters. This particular type of architectural lettering is used predominately indoors in lobby and reception areas for office lettering, though high-density foam letters can be manufactured to last outdoor in the elements as well.
Foam letters, logos and graphics are also widely used at museums and art houses to give detail and flair to featured exhibits. Retail and commercial stores also utilize foam letters for low cost wall decor, props and displays because of their great definition, ease of install and affordability in price.
Foam display lettering is essentially achieved by cutting a high-density foam piece to a desired shape and size. The foam lettering can then be painted (Standard Foam Letters - Interior); have a solid or painted aluminum laminate mounted to the face of the piece (Exterior foam letters with a metal face); or have a combination of painted pieces with an acrylic or aluminum face laminate (Exterior high density urethane foam letters), thereby producing an ultra light-weight premium looking dimensional wall letter. And in most casts, these 3-D signs can be easily installed on interior walls, with double-sided tape or silicone eliminating having to purchase any special mounting hardware.
Request a quote or give our 3-D Lettering experts a call today
for metal letter and logo pricing.
866-267-4467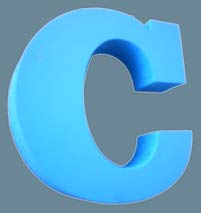 Standard foam lettering is tailored more specifically for interior use and is seen most in lobbies and reception areas of buildings. This indoor architectural signage can be painted or have a custom laminate face. Interior foam lettering is very lightweight and affordable and can be installed with silicone or double-faced tape and will normally last a lifetime.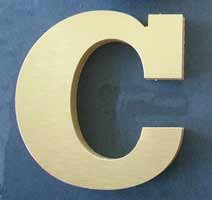 Very similar to Gatorfoam, but manufactured with a 2 lb density, rendering this particular display lettering option more durable for exterior use. This high density foam is usually outfitted with a smooth aluminum face that gives the appearance of a solid painted metal letter. For the price, this is a very economical architectural display lettering choice, for normal exterior use.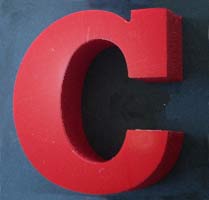 This form of foam display lettering works best when your foam display lettering will be installed outdoors in extreme weather conditions. This particular form of lettering is painted with a HDU (high density urethane) coating and then painted with a high quality outdoor paint in practically any custom color available. This form or display lettering can also feature laminated acrylic or aluminum faces.