Acrylic Lettering: Flat cut plastic (plexiglas) letters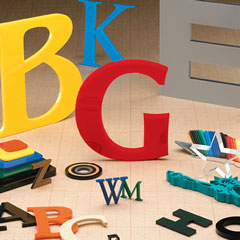 Or call for additional Plastic Lettering information: (866) 267-4467
---
Laser cut plastic lettering & logos
Though flat cut lettering might not have the prismatic look or depth of pre-made formed letters or custom formed letters, this form of dimensional signage allows great diversity with 7 different thicknesses for unique and versatile custom signs. As with custom formed letters, flat cut acrylic wall lettering, allows you to create exact 3D replicas of your company logo, in any color, font or size imaginable. Just supply us with your vector artwork and we'll do the rest.
Limitless potential comes to mind with flat cut acrylic lettering. These immaculate laser-cut letters have spectacularly polished edges and are precision cut utilizing the latest in laser technology to produce high-quality pieces at a great price. Flat cut acrylic is manufactured from sheets of pigmented acrylic, in different thickness guages, that are cut to shape using vector artwork giving your 2-D electronic logo a pristine 3-D look when completed. Flat cut acrylic gives so much diversity to your signage options because there are literally no limitations on the color, shape or size you can achieve with this form of dimensional lettering. And when you consider that this form of office lettering can be manufactured to look exactly like metal lettering, but withouth the weight or cost, it's a win-win situation. Not to mention that flat cut acrylic can be used as a thin face laminate on thick foam letters, creating more depth at a cheaper price, for interior office wall lettering.
When it comes to installation of flat cut acrylic lettering there are several different mounting options to choose from. Depending on how large your lettering is and where it will be installed (interior or exterior), plays a big factor in mounting equipment. When ordering dimensional lettering, your 3-D sign consultant, can help you choose the correct mounting gear to ensure your sign is properly outfitted to install your newly purchased architectural signage accordingly.
Flat Cut Acrylic Lettering Options and Highlights:
Durability

: Guaranteed for a Lifetime!


Variety:

Unlimited standard and custom styles in 32 regular colors with PMS color matching options.


Thicknesses:

7 different thicknesses - 1/8", 3/16"; 1/4"; 3/8"; 1/2"; 3/4" and 1"




Size:

Sizes range from 1" to 72"


Mounting options:

Plain, Stud, Pad, Combination and more


Installation:

Sketch, paper and drill patterns available upon request

Check out our other Plastic letter options:
Please call our 3-D Lettering Sign Specialists today to inquire about all our
Dimensional Plastic Lettering options and styles.
(866) 267-4467