Large Format Printing
---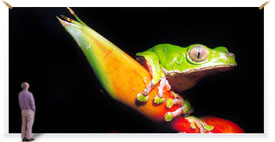 Color printing for posters, banners and decals!
Bring your wildest designs to life!
What type of large format printing do you need?
Vinyl Banner Printing - If you are in need of a long lasting banner for permanent outdoor use, or over sized banners with heights over 52", we recommend our billboard size banner printer. These banners are printed using a grand format (billboard size) printer. This banner printer is capable of printing banners up to 16 feet tax by any length on continuous banner material producing superior quality prints on durable vinyl banner fabric.
Budget Poster Printing - This product is printed on quality pearl finish poster paper using our 6-color, 720x720 DPI large format printer.
Large Vehicle Decals - Full color large format digitally printed decals made from premium high performance vinyl for all vehicle types.
Just send us your artwork, we'll do the rest!
The newest in banner printing, poster printing and decal printing technology just got newer with our new full color large format format banner printer, large format poster printer and large format decal printer. Printing banners, posters and decals gets more affordable all the time!
These oversize color prints are a powerful communication tool that can be produced easily, quickly and affordable at OCSigns.com. Whether your printed banner, printed poster or printer decal is large or small, we have a printer to match any and all of your needs. Ask us how we can help you for all your large format banner, poster or decal printing.
Banners "vinyl & printed"

Vehicle "photo" graphics

Trade show displays


Posters

Decals

Wall murals

Floor graphics

About Our Large Format Printing

So you have a print project that involves some rather large graphics? No problem...OCSigns.com can product all large format print(s) at a good cost and with great quality. Large format printing has been around for a while and is getting bigger and bigger with the expanding size of buildings, walls, floors and vehicles. Ever wonder how you can bring a wall to life just short of getting it painted? How to create an enormous banner to hang from the outside of a downtown corporate building? Or maybe, sprucing up your tractor trailer with some custom graphics? Large format printing is the solution. With large format printing you can print decals, stickers, banners, vehicle graphics, etc. all on a grand scale to fit your designated area. Why paint when you can print? Painting eventually requires more painting to cover the existing image. With large format printing you can create the same look as paint, for a fraction of the cost in labor, that is much more flexible installation and removal wise. Take for instance, a typical 18-wheel vehicle that is in need of large format truck graphics. A lot of small sign shop companies cannot accommodate the large format graphics that will need to be printing for a vehicle that large. Or better yet, in a busy metropolitan area populated with skyscrapers and high-rise buildings, getting a large format vinyl or fabric digital banner printed to be displayed inside or outside the establishment. When you use large format digital printing the beauty is that when or if the signage needs to be taken off, replaced or possibly relocated (i.e. banners and poster prints), our large format prints can be removed easily, leaving the sub-strata that it was installed onto. in tact and without need of repainting or repairing. And since we offer large format printing to our local customer's as well as our out-of-state clientele anybody has access to our large format printing process.

Our large format banners come hemmed, stitched and grommeted for added durability and can be used outdoors on the sides of buildings or indoors to decorate walls or for trade-shows. We can also print large format posters for personal or professional use. In need of a large format decal, sticker or banner for your windows? We can do that too. We can even product large format digital floor decals and graphics that can be applied to just about any smooth non-porous floor material and then easily removed when necessary.
Give Quick Signs a call.
(866) 267-4467
Our knowledgeable banner, poster and decal printing sales staff will help fit your poster,
banner or decal signage needs fast and within your budget.