Magnetic Signs for Cars, Trucks and Vans
---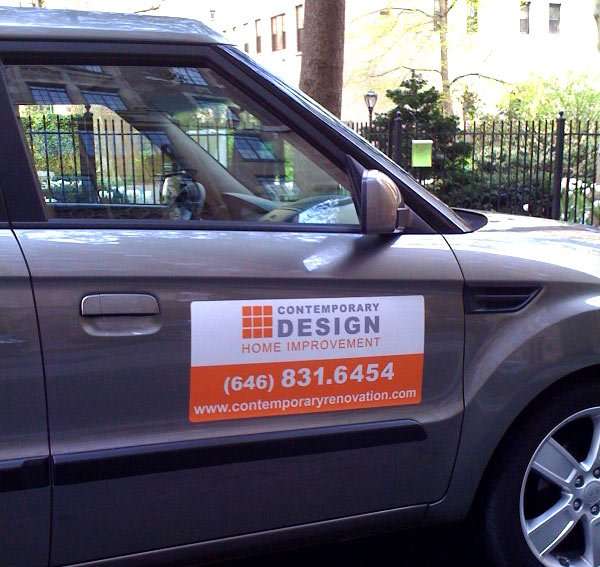 Durable removable magnetic signs for your vehicle
Get noticed on the road...mobile advertising for cheap!
What type of vehicle to you need magnetic signs for?

Car Magnetic Signs - Turn your commuter car into an advertising asset! Our standard sizes will usually fit any make and model on all two-door and four-door cars.
Truck/SUV Magnetic Signs - Trucks and SUV's have more available space to cover, as well as, special sizing needs to fit key advertising spaces like tailgates, truck beds and hatchback doors.
Van Magnetic Signs - These unique utility vehicles have a lot of large surface areas that greatly benefit from extra-large over-sized magnetic signs.
Mobile advertising for all vehicles!

Magnetic car signs are a great investment for promoting your business and services. These non-permanent signs make mobile advertising easy and effortless without the commitment of permanent vehicle graphics. Magnetic signs can be used during the day and stored at night or left on the vehicle for long periods of time. Magnetic signs are also a lot cheaper than permanent vehicle graphics or vehicle wraps so for a lot less money you can still advertise and get your information out there.
Magnetic signs can be adhered to just about any car, truck, van or SUV. We use 100% American made vehicle grade magnetic material for our magnetic signs and offer three standard sizes (10 x 18, 11 x 20 and 12 x 24) as well as custom-sized magnetic signs. Our magnetic signs are automatically laminated for an extra layer of protection against the elements and scratching. We also use fade-resistant inks for long last prints. With proper care and maintenance our magnetic vehicle signs will last for years!
For magnetic signs that require reflective lettering or reflective decals to be visible at night...please give us a call for special reflective magnetic sign pricing.
We also offer blank magnetic signs to cover existing permanent vehicle graphics for vehicles that are parked in areas with strict non-advertising rules. Blank magnetic signs can be ordered to specific sizes or as one square foot piece that can be cut down to personalized sizes by the customer. We also manufacture blank magnetic signs with colored vinyl faces for vehicle color matching. Call us today for blank magnetic sign pricing and information.

Have any questions about our Magnetic Signs,
or want to place an order over the phone?
Give Quick Signs a call.
(866) 267-4467