Wall Letters & Graphics:

Vinyl letters & decals for your wall
---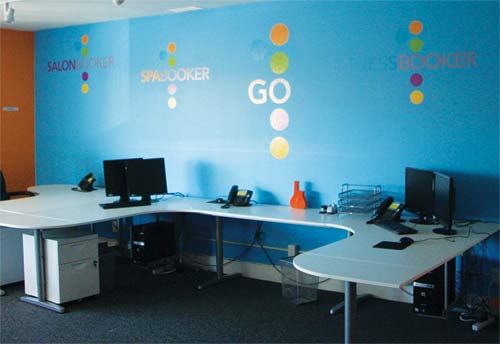 Full color digital wall graphics, lettering and decals.
Let your walls express themselves with custom graphics, lettering or decals.
What type of wall graphics do you need?
Let your walls make a statement!

Wall graphics and lettering can be simple or complex...conveying a straight-forward message; branding an office or simply decorating your home with beautiful graphics. For wordage or simple images and silhouette's we offer many various color choices in two different vinyl types (Standard and High Performance). Our current font database is well into the hundreds and expanding.
When it comes to custom graphics and lettering you have a few different options. Your first option is more of a sticker/decal that can be applied like wallpaper. Printed decals/stickers have a square or rectangular cut (custom oval or circular cuts available upon request) and do not require any special die-cutting. Your second option is custom cut wall graphics and lettering. This combination can be achieved with digitally printed graphics cut to simple or intricate shapes and then adding cut vinyl lettering for the verbiage; or digitally printing the whole wall graphic (this is especially true if the customer has specific colors that they need to stay true too) and cutting it to shape for application.
For added depth and character we offer dimensional wall letters for interior or exterior applications. This form of wall lettering utilizes Metal, Plastic or Foam letters to create raised letters that extrude from your wall creating a 3-D effect. There are many forms and variations of dimensional lettering starting from very straightforward pre-crafted letters to completely custom cut, formed and painted letters.
Whatever your wall graphic or lettering needs are we can help animate your blank walls with a quick phone call or a click of the mouse.
ANY SIZE: Large or small or in-between. We can print any size you need!

ANY QUANTITY: No print minimums here. Need 1? No problem. Need 100% Still, no problem.


ANY DESIGN: From just lettering, to lettering and graphics or simple printed decals...we have you and your wall covered, literally!

ANY WALL: Install indoors or outdoors

on most smooth, non-porous or slightly textured surfaces.

Give our knowledgeable sales team a call for assistance in pricing or with questions
about all our wall graphics, lettering or printed decal/sticker products and options.
(866) 267-4467