Window Graphics and Lettering
---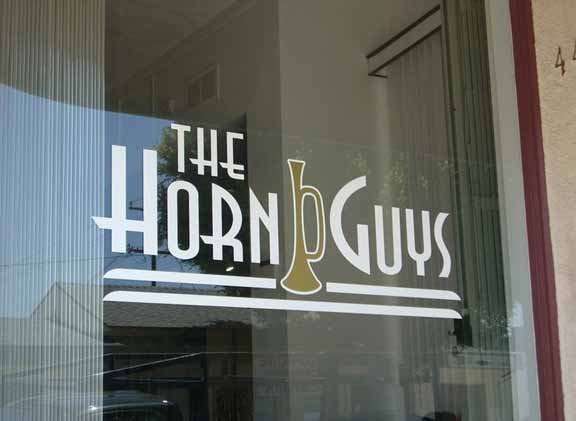 Full color digital or spot color window graphics, lettering or decals.
Let your windows be visually stunning and informative.
What type of window graphics do you need?
Let your windows give you more curb appeal!

Window graphics are a great alternative to painting. When you paint on your window, eventually it needs to be removed and paint removal can be a daunting task and require a professional. Since window graphics and lettering are essentially digital prints or cut vinyl pieces that have an adhesive backing, you can apply and remove with relative ease and at an economical price.
Window graphics and lettering can be created in a few different ways. Simple lettering only is achieved by choosing a particular vinyl color (for windows we suggest white because it is most visible on windows) and a font for your verbiage. Lettering only is priced by the number of characters and by the height of those characters.
The second option for window graphics and lettering is essentially a digital print or spot color print on white vinyl that is not cut to shape, but is more like a bumper sticker type decal. This option does allows for the graphics to be printed and of a rectangle or square cut in nature (custom circular, oval or cloud cuts can be achieved upon request.)
Your final option, for custom window graphics and lettering, is to have a complex design with your specific logo and all lettering cut to shape, or in other words, die-cut. This can be achieved by a combination of a digital print and cut vinyl lettering or a full digital print that is then contour cut leaving only the graphics to be applied to the window surface.
Whatever your window graphic or lettering needs are, we can definitely help you achieve the look you are aiming for to utilize your blank window space.
ANY SIZE: Large or small or in-between. We can print any size you need!

ANY QUANTITY: No minimum orders. From 1 to 100, we will produce your order.

ANY DESIGN: Lettering only. Printed decals/stickers. Graphics and lettering. We do it all!


ANY WINDOW: Install indoors or outdoors

in minutes.



Give our knowledgeable sales team a call for assistance in pricing or questions
about all our window graphics, lettering or printed decal/sticker products and options.
(866) 267-4467