Custom Formed Plastic Letters: Personalized 3-D wall letters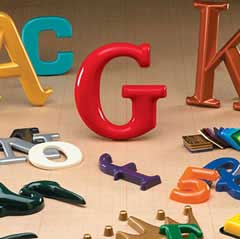 Or call for additional Plastic Lettering information: (866) 267-4467
---
Great prices for custom formed letters
Custom formed plastic lettering is the next step up in the arena of high-impact fabricated signage. Custom formed letters fall into the creative side of plastic lettering, because of their distinct personalized nature. When supplied with vector artwork, just about any mold can be made, to produce custom lettering and logos not available with pre-made formed lettering.
When you are looking for plastic letters that encompass affordability and creativity, through logo specific replication that pre-made letters can't accommodate, then custom formed lettering is your best bet! With the proper artwork, custom formed letters, renders your 2D electronic artwork with three dimensional life, to proudly display on your interior or exterior walls. You can also combine custom and pre-made formed letters, to achieve a personalized look, thus satisfying any strict budget requirements.
Speaking of budgets, custom plastic wall letters, have the capability to specifically mimic the look of metal lettering without the cost and weight they can carry. And though, foam letters tend to be the least expensive form of dimensional wall lettering, plastic lettering offers more options and durability, especially when installed on exterior surfaces. And don't forget that custom formed wall letters can attain the same rounded or prismatic qualities, of pre-made letters, giving them an edge over flat cut acrylic letters.
Installation of custom standard formed lettering is easy when your signage has the proper mounting equipment. The right mounting gear is key to installing your architectural signage with precision, whether your lettering is stud or pad mounted or has a combination of different mounting options. Purchasing a paper or drill pattern is always a great addition to your order for the most spot-on installation possible.
Custom formed Lettering Options and Highlights:
Durability

: Guaranteed for Life!


Variety:

The sky is the limit. Supply a vector file for completely custom logos


Finishes:

Flat, round or prismatic faces in standard pigmented colors or PMS colors




Size:

Sizes starting at 4" with single formed pieces up to 45" x 68"


Mounting options:

Plain, Stud, Pad, Combination and more


Installation:

Paper and drill patterns available upon request

Check out our other Plastic letter options:
Please call our 3-D Lettering Sign Specialists today to inquire about all our
Dimensional Plastic Lettering options and styles.
(866) 267-4467