Foam Letters: High Density indoor/outdoor lettering.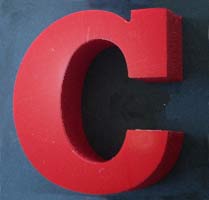 Or call for additional Foam Lettering information: (866) 267-4467
---
Durable high density dimensional foam letters.
Another exterior foam lettering option available is in the form of Painted HDU foam letters. These particular heavy-duty foam letters are painted with a high density urethane coating, that makes the foam lettering resistant to rotting and moisture, whether extreme weather is an environmental factor or not. This coating also helps to keep the foam lettering from cracking when exposed to the elements. This exterior foam lettering can achieve very deep plastic lettering and metal lettering looks as well.
For extreme weather environments our painted HDU foam letters will satisfy your budget without compromising quality or durability. Our painted HDU lettering is made from top quality high density urethane foam that is painted to any custom color imaginable. Exterior HDU foam letters can also be outfitted with various face laminates of flat cut acrylic or aluminum to resemble their cast, formed and fabricated metal and plastic dimensional brothers and sisters. For added depth, painted HDU foam letters, can also be used over our indoor foam for any interior wall signage as well.
High density urethane foam letters have many mounting options depending on the size, location and environment for their installation. Make sure to discuss mounting and pattern options when inquiring about and/or purchasing foam lettering to properly assess and order the necessary hardware to install your custom exterior foam dimensional lettering.
Painted HDU Foam Display Lettering Options and Highlights:
Durability

: Long-lasting stability in severe exterior conditions


Variety:

Practically unlimited size and color choices


Finishes:

Custom or standard paint choices as well as acrylic laminates and more




Thicknesses:

1/2", 3/4", 1", 1 1/2", 2" and 3"


Installation:

Various mounting options dependant on size and placement

Check out our other Foam letter options:
Please call our 3-D Lettering Sign Specialists today to inquire about all our
Dimensional Foam Lettering options and styles.
(866) 267-4467