Indoor Foam Letters:

Indoor wall lettering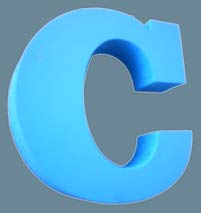 Or call for additional Foam Lettering information: (866) 267-4467
---
Low cost interior foam wall office letters
Interior foam display letters are the most economical indoor signage on the market and is almost unlimited in regards to customization. Foam wall letters are available in varying thicknesses that have a laminated or painted face to achieve a unique look at half the price of standard cast metal letters, fabricated or flat cut Standard Exterior Foam. Painted foam lettering is great for all indoor applications from lobbies to exhibit halls and everywhere in between.
Why pay the additional costs associated with other 3-Dimensional lettering options. With interior foam display lettering you get the best of both worlds...affordability and quality all rolled into one. Most interior display letters can be manufactured to mimic the look of any metal or plastic architectural signage on the market today, at a much better price, while still delivering a very high quality and durable product that is just as visually stunning as it's more expensive counterpart.
Interior foam lettering has the same options as our Standard Exterior Foam and High Density Exterior Foam letters when it comes to finishes. From simply painting just the face of the letter or coating the whole piece in one solid color to stepping up to the next level and adding a thin metal or acrylic laminate to the face of the lettering. By adding a laminate you can create a much more custom and stylish look.
Installation of indoor display lettering is made even easier because these ultra light weight dimensional letters can be applied to any interior wall with double-faced tape or silicone for small pieces. Larger foam display letters may need more extensive mounting hardware to properly install the pieces. Paper, sketch and drill patterns are available to help aid the installation process and can be ordered in conjunction with your lettering.
Indoor Painted Foam Display Lettering Options and Highlights:
Durability

: Great longevity when properly maintained


Variety:

Practically unlimited size and color choices


Finishes:

Custom or standard paint choices as well as acrylic laminates and more




Thicknesses:

Ranging in various sizes starting at 1/2" up to 2"


Installation:

Easy install with double-faced tape, silicone or other mounting options

Check out our other Foam letter options:
Please call our 3-D Lettering Sign Specialists today to inquire about all our
Dimensional Foam Lettering options and styles.
(866) 267-4467