Pre-made formed lettering:

Plastic letters for walls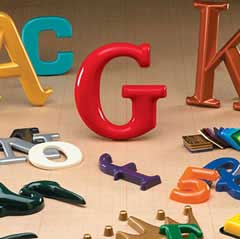 Or call for additional Plastic Lettering information: (866) 267-4467
---
Low cost lettering with high impact results
Formed plastic letters are easily the standard when it comes to dimensional signage utilized by most all office, retail and business establishments, since the lettering is pre-made and can be ordered quickly from an indulgent variety of fonts, thicknesses and colors. Though the pricing between formed letters and cut acrylic letters are comparable, this product is a better value because of the round, flat or prismatic face options that give significantly more depth to your dimensional signage.
Formed plastic letters offer the best depth for the money when compared to metal letters (price wise) or foam letters (durability wise). Since standard formed letters utilize inexpensive pre-made molds in a variety of 128 different fonts, ranging in thickness from light and condensed block styles to bold and extended serif styles to decorative script styles, it passes along savings to the customer by allowing the utmost in lettering style choices without having to create a custom formed plastic letter . And with 31 standard pigmented colors available you can create a three dimensional sign, that is still unique, with the added bonus of complete affordability.
Installation of standard formed lettering is especially easy when your dimensional signage has the proper mounting equipment. The right mounting set up is essential to installing your architectural signage properly, whether your lettering is stud mounted, pad mounted or has a combination of different mounting methods. Please keep in mind that a paper or drill pattern is always a great addition to your order for even more precise installation.
Formed Lettering Options and Highlights:
Durability

: Lifetime Guarantee!!


Variety:

Over 128 standard styles and 31 standard colors


Finishes:

Flat, round or prismatic faces




Size:

Sizes range from 2" to 48" in various increments


Mounting options:

Plain, Stud, Pad, Combination and more


Installation:

Suitable indoors and outdoors

Check out our other Plastic letter options:
Please call our 3-D Lettering Sign Specialists today to inquire about all our
Dimensional Plastic Lettering options and styles.
866-267-446